The launch of Th12 brings a Village Center with a defense, new levels of buildings, changes in balance and more content yet to be revealed. However, one of the most interesting features being introduced in the Clash of Clans will be the SIEGE MACHINES!
Check out this post an introduction introducing everything about this new construction that is coming to the game, the Siege Machines!
What are Sieving Machines?
Fencing Machines introduce a whole new game mechanic in your village. Crush through walls! Bomb defenses! Deliver your Clan Castle reinforcements directly into the heart of your enemy's base!
Watch this official Supercell video:
These mobile Clan Castles are trained at the Siege Workshop, a new construction available to players at tH12 and will transport and protect the reinforcements of their Clan Castle in combat.
What do the Fencing Machines do?
The Siege Machines will attempt to direct directly to the enemy Town Center in order to dump their complement of troops. Each type of Fencing Machine will offer a unique method of transporting and deploying its reinforcements during its attacks, more details on this later. Once the Machine has arrived at the Village Center, it will self-destruct, releasing troops from Clan Castle.
Only the Th12 will be able to use the Enclosure Machines? No! While the Siege Workshop can only be built by villages with Th12, the Siege Machines can be donated to your Clan Castle Clan mates level 6 or higher! Use them as a new and effective strategy during Clan Wars!
What Kind of Fencing Machines Does It Exist?
With the launch of the Th12, there will be 2 Siege Machines available: the Wallbreaks and the Airship. Both reach their goals in their own way and open new avenues of how you will not only build troop compositions but also how you can defend against them.
The Wallbreaker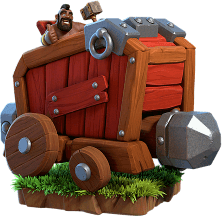 The Wallbreaker has two purposes in life: to crush anything in its path and provide an armored casing of heavy materials to protect its precious cargo. The Wallbreaker will crush the wall out (doing x10 damage) and hammer any other building along its path. Not only does Breakwaters provide a way to protect your troops from Clan Castle from nearing damage, but it also opens up new strategies for tapering your army while the Destroyer paves the way for victory!
Military Airship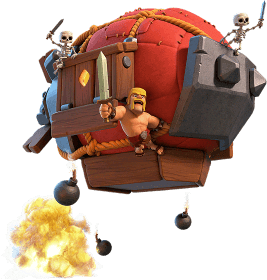 The Zippier, Hot Air's cousin of the Wallbreaker, is a War Blimp that flies over the defenses of your enemy. When entering a straight line for the enemy Th, the battle dirigible will launch a continuous barrage of bombs. The Airship is much faster than the Wallbreaker, but will suffer less damage before being forced to abandon its payload. Simply fill in the War Blimp with Valkyrie, cast a spell of fury in the Village Center of the enemy and watch the chaos, for the Valkyries create a whirlwind of destruction when they fall from the heavens.
How Do I Use a Sieving Machine?
If you have trained or received a donated Siege Machine, it will appear on the list of available troops and will be deployed in the same way that you deploy your other units. When you receive reinforcements in the Clan Castle from your clanmates, you will be presented with a new button in the user interface. You can choose to drop your troops from Clan Castle usually by pressing the clan flag icon and attacking in the old way ... or ... you can choose to "CRUSH" your way to the Village Center with a FENCE MACHINE!

When you deploy your Siege Machine into battle, your Clan Castle troops are automatically placed in and will remain in until one of 3 things happens:
1) They reach the enemy's Th;
2) The Siege Machine is destroyed or;
3) You self-destruct your Siege Machine to manually deploy your troops.
No matter which way you use them, your Clan Castle troops will be released and can do a lot of damage!